The Largest & Original (Est. 2009) Forum for Precision Medicine
A FULL TRACK DEDICATED TO THE FIGHT AGAINST COVID-19
The Largest & Original (Est. 2009) Forum for Precision Medicine
Facilitating Collaboration in the Field of Personalized Patient Care
The Largest & Original (Est. 2009) Forum for Precision Medicine
A FULL TRACK DEDICATED TO THE FIGHT AGAINST COVID-19
Facilitating Collaboration in the Field of Personalized Patient Care
See the 7-Track, 3-Day, 400-Speaker Precision Medicine Agenda
See the 7-Track, 3-Day, 400-Speaker Precision Medicine Agenda
 PMWC 2024 PIONEER HONOREE, CGT TRACK
PMWC 2024 PIONEER HONOREE, CGT TRACK
PMWC 2024 PIONEER HONOREE, CGT TRACK
PMWC 2024 PIONEER HONOREE, CGT TRACK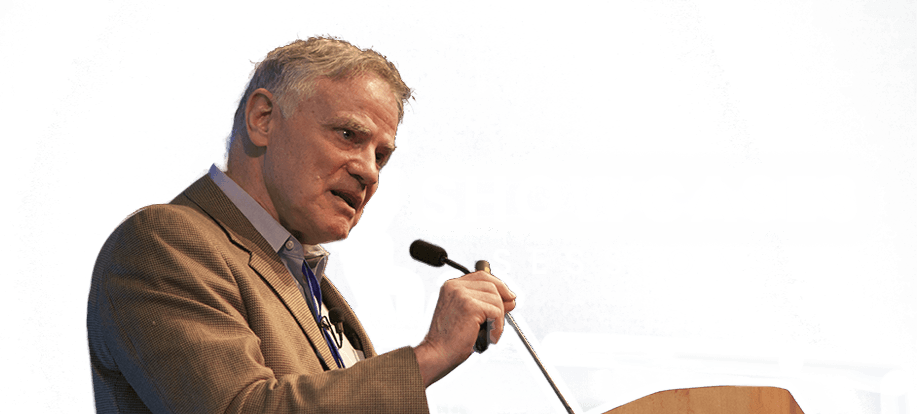 AUDIENCE: UP TO 200 INVESTORS, POTENTIAL CLIENTS AND PARTNERS
The Foremost Precision Medicine Conference
• Gathering recognized leaders, top global researchers and medical professionals, plus innovators across healthcare and biotechnology sectors
• Showcasing latest practical content that helps close the knowledge gap among different sectors
• Promoting cross-functional fertilization & collaboration to accelerate Precision Medicine
• Main Tracks and Showcases (6 Total) that provide a mix of established and upcoming perspectives
• Luminary and Pioneer Award Ceremony honoring those who transform healthcare by advancing precision medicine in the clinic
PMWC provides a valuable insight for physicians and others who may be wondering how close we are getting to realizing the arrival of personalized medicine. The conferences are helpful in understanding where and how the envelope is being pushed.
Peter Paul Yu, MD, FACP, FASCO, Immediate Past President, ASCO
See Testimonials video >
PMWC has proven, time and time again, that it attracts thought-leaders from all the relevant fields and catalyzes crucial collaboration through inspiring and practical program content. This is the Conference for entrepreneurs to meet payors, and for researchers to connect with service providers and for clinicians to hear from leading providers.
Lee Hood, PhD, MD, President, Institute for Systems Biology
See Testimonials video >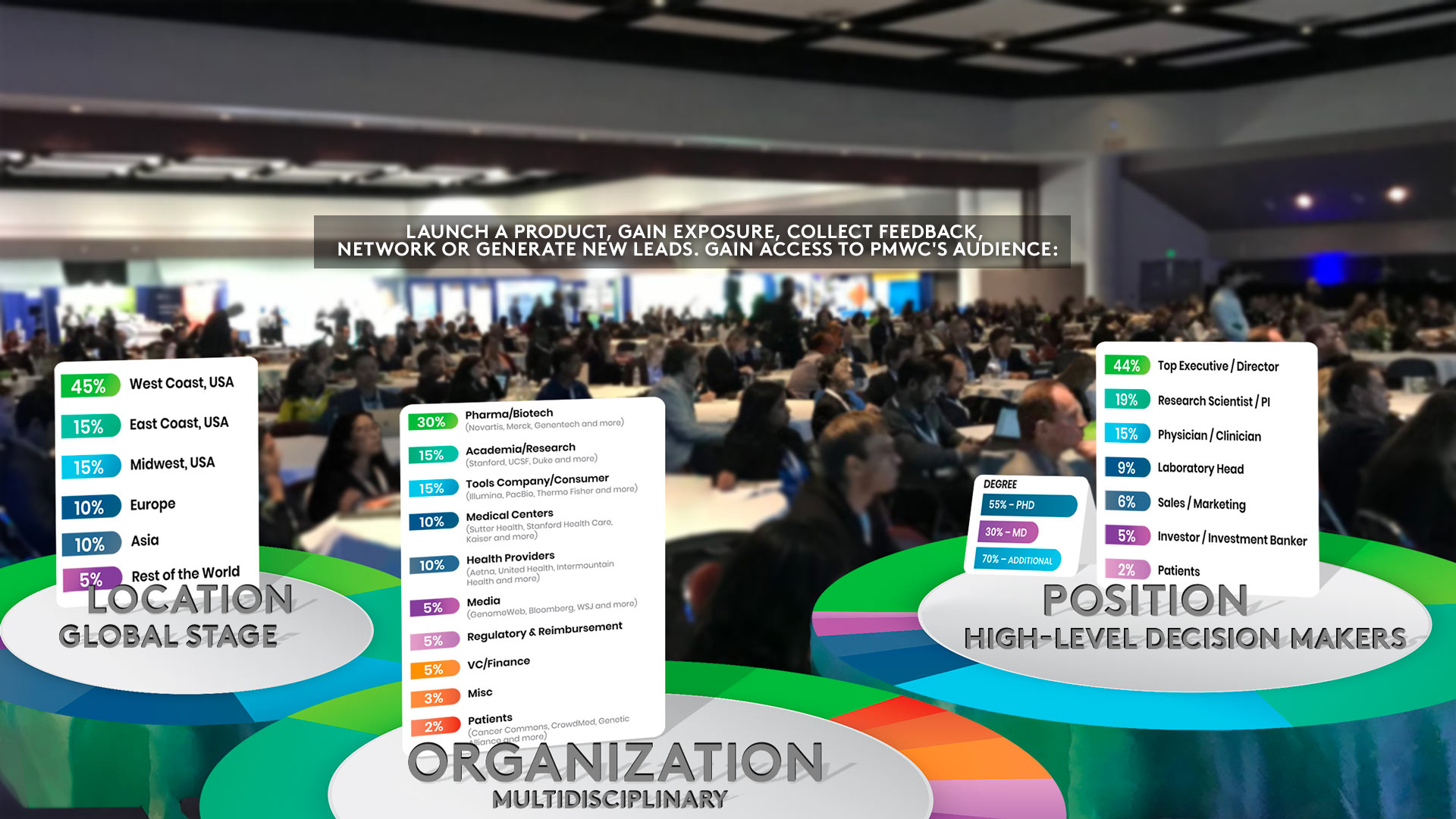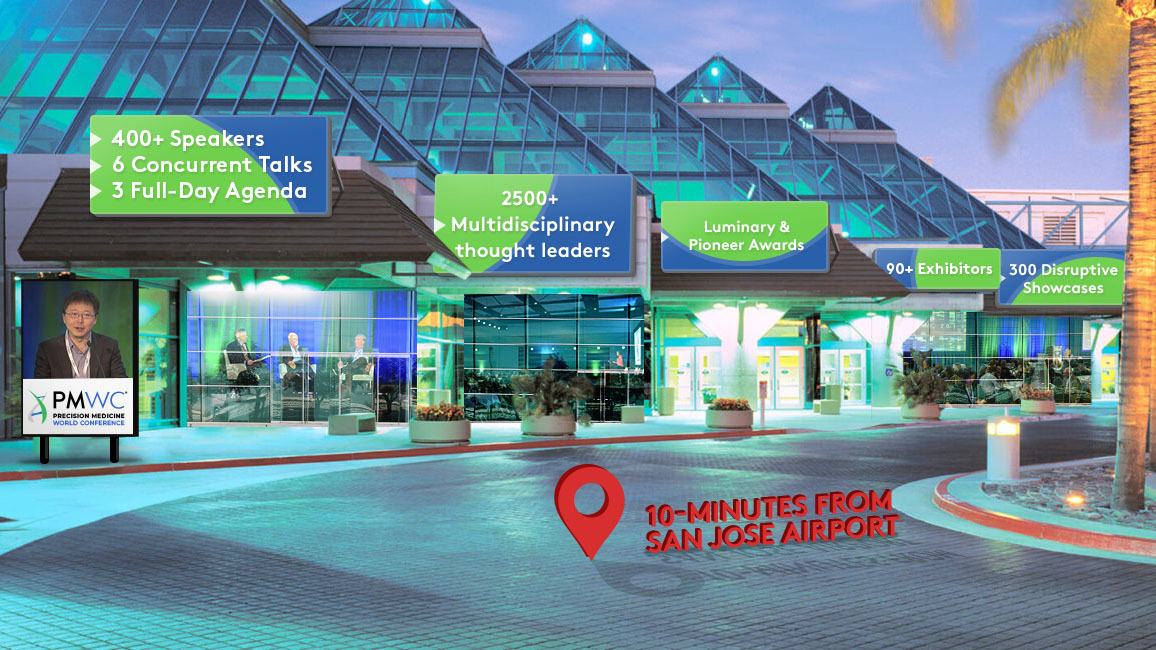 Receive the latest news about the field of precision medicine and the conference from Tal Behar, PMWC's President:
We are thrilled to introduce you to our upcoming PMWC program on Infectious Disease and Microbiome (Track 3, January 26), set to illustrate the latest breakthroughs in the context of the upcoming PMWC January 24-26, 2024 Silicon Valley conference.
Addressing the challenges posed by pathogen outbreaks, pandemics, and antimicrobial resistance requires concerted interdisciplinary efforts. The combination of systems biology, omics technologies, and artificial intelligence (AI) is leading the rapid progress in helping us to understand infection biology, accelerate the development of diagnostics, and expand our repertoire of anti-infective drugs. Recent pathogen outbreaks – SARS, swine flu, MERS, Ebola, Zika, and not the least the most recent COVID-19 pandemic – have highlighted the pressing need for cutting-edge, rapid infectious disease diagnostics and treatments.
Charles Chiu, Professor, Laboratory Medicine and Medicine/Infectious Diseases (UCSF) and Track Chair Infectious Disease & Microbiome Track: "The advancements in omics technologies, AI, and metagenomics hold the promise of continuous improvements of infectious disease molecular diagnostics."
Leading the charge is Metagenomic Next-Generation Sequencing (mNGS) which explores a mixture of DNA from multiple organisms and entities, such as viruses and bacteria to efficiently pinpoint the genetic makeup of various infectious agents in a single test. Combining the power of mNGS with AI has the potential to propel us into an era of unprecedented progress in the early detection of infectious diseases. mNGS also plays a crucial role in our understanding of the human gut microbiome, including dissecting the diversity of the gut microbiome, identifying novel genes, and determining the etiology of functional dysbiosis.
As we move forward in broadening our understanding, we recognize there are still many challenges ahead. Our healthcare system and infrastructure require some vital upgrades, including comprehensive training of key stakeholders on the benefits and interpretation of mNGS data, the establishment of robust bioinformatics tools for rapid and accurate disease identification, and scalable data analysis and storage solutions. At our upcoming Precision Medicine World Conference Silicon Valley (PMWC 2024 SV) we have a series of sessions planned that aim at addressing recent advancements in infectious disease identification and diagnosis, and specific challenges that we will need to overcome to let us capitalize fully on the emerging knowledge and insights.
Highlighted sessions for disease diagnostics and deciphering the role of the human microbiome include:
• Honoring Geoff Ginsburg the Chief Medical and Scientific Officer of All of US/NIH -Award Ceremony
• Metagenomic Sequencing Challenges in Microbiology Labs – Panel chaired by Charles Chiu (UCSF) with Esther Babady (MSKCC), Robert Schlaberg (Illumina), and David Gaston (VUMC)
• Optimizing Clinical Metagenomics for Infectious Diseases Diagnosis – a panel chaired by Steve Miller (Delve Bio) with Anne Piantadoski (Emory University), Sivan Bercovici (Karius Dx), Laura Filkins (Children's Health System of Texas), and Catherine Hogan (British Columbia / CDC)
• Advancing Infectious Disease Management through AI, Metagenomics, and Emerging Technologies – a panel chaired by Charles Chiu (UCSF), Purvesh Khatri (Stanford University), Monica Fung (UCSF), and Kristian Andersen (Scripps Research), Kathleen Jacobson (CA Dept Public Health)
• Promoting Global Collaboration for Data Sharing: Overcoming Organizational and Sectoral Barriers – panel with Duncan MacCannell (CDC SPHERES Consortium), Peter Goodhand (GA4GH), Valentina Di Francesco (NIH, NHGRI), Melanie Courtot (ICGC-ARGO) and Erica Galvez (Manifest MedEx)
• Insight and Actionable Strategies for Microbiome Innovation – a panel chaired by Nathan Price (Thorne), Colleen Cutcliffe (Pendulum), Jack Gilbert (UCSD), Nikole E. Kimes (Siolta Therapeutics), Fiona Tambuini (Genentech) and Alex Morgan (Khosla Ventures)
• New Frontiers in Genomic Analysis & Interpretation – presentation by Robert Sebra (ISMMS) and Chaz Langelier (UCSF)
• PMWC Showcase – Andrea Califano (Columbia University), Tim Wesselman (Rosalind), Tara Crawford (DNA Genotek), Harmeet Dhani (Biological Dynamics), Steve Miller (Delve Bio), and Federica Gibellini (AccessDx Laboratory)
Come join these experts to witness and partake in discussions reviewing the latest advancements in the field, and learn about proposed solutions to drive future uptake and implementation.
Register Today to Secure a Discounted Rate.
Best regards,
Tal Behar
President & Co-founder, PMWC
PMWC 2024 Silicon Valley – January 24-26, 2024
The Precision Medicine World Conference (PMWC)
In the rapidly advancing realm of modern medicine, gene-modified cell therapies are set to redefine oncology. PMWC, 2024 Silicon Valley Conference on January 24-26 is a beacon for those eager to delve into this transformative shift and harness the potential of oncology-focused cell therapies.
As Ira Mellman (Genentech & PMWC 2024 Speaker) highlights "Creating, preparing, and engineering cells for patient reintegration involves synthetic biology. Understanding this process is key to its success."
The horizon is illuminated with groundbreaking technologies, including the integration of AI and Machine Learning for intricate patient profiling, and the development of efficient cell expansion techniques. This wave of innovation heralds a new era of tailored and precise treatments for cancer patients.
However, the journey is not without its challenges. Mellman emphasizes, "Balancing safety concerns with the need for rapid therapy modifications is crucial. Flexibility in regulation can support innovation."
This conference serves as a nexus for professionals committed to addressing these challenges and propelling innovation in cell-based therapies. George Coukos (Ludwig Cancer Research & PMWC 2024 Honoree in Tumor Immunology) will illuminate the path forward, emphasizing, "The imperative is to employ state-of-the-art technologies like AI and ML to lead the way in developing personalized cell therapies. These tools will not only help address challenges of individual patient profiles and tumor characteristics but also address issues related to production efficiency and scalability."
Our sessions are thoughtfully curated to offer a deep dive into pivotal aspects of cell therapies. This ranges from the discovery of innovative cell therapy targets, under the guidance of Sharon Benzeno (Adaptive Biotechnologies & PMWC Track Chair), to delving into cell therapy applications in clinical trials, the evolution of supply chains, cost considerations, and the pivotal role of AI/Machine Learning. Each segment promises to equip attendees with profound insights into the latest advancements in cell therapy.
We are thrilled to extend an invitation for you to be part of the 23rd PMWC conference from January 24-26 (Full Speaker Lineup). Our distinguished panelists, leading the charge in these breakthroughs, are poised to spark transformative discussions and insights.
Highlighted sessions and speakers include:
Discovery of Novel Targets in Cell Therapies in Oncology and Autoimmune Disorders (PANEL)
Chair: Harlan Robins, Adaptive Bio
Stanley Riddell, Fred Hutchinson
Allison Betof Warner, Stanford
Lawrence Fong, UCSF
Scientific Advancements in Individualized Cell Therapeutics for Oncology (PANEL)
Chair: Sharon Benzeno, Adaptive Biotechnologies
Ira Mellman, Genentech
George Coukos, Ludwig Institute for Cancer Research
Bobert Meehan, Moderna
Dirk Nagorsen, Affini-T Therapeutics
Supply Chain 2.0: Getting Cell Therapies to Patients (PANEL)
Chair: John Knighton, Janssen Pharmaceuticals
Amanda Pace, Sonoma Bio
Wendy Tzeng, Sana Biotechnology
AI-Enhanced Approaches in Cell Therapy Development
Chair: Suchit Jhunjhunwala, Genentech
Brian Weitzner, Outpace Bio
Richard Bonneau, Prescient Design
Join us in this enlightening journey into the future of oncology-focused cell therapies.
Register Today.
Best regards,
Tal Behar
President & Co-founder, PMWC
PMWC 2024 Silicon Valley – January 24-26, 2024
The Precision Medicine World Conference (PMWC)
INTERVIEW WITH HEIDI REHM 10/28/23
Question 1: Regarding the PMWC 2024 Luminary Award.
My journey began with a two-decade-long tenure as a clinical lab director, where I realized the challenges in interpreting genetic variation due to limited data sharing. This prompted me to write a grant to try to address this issue and this work is now part of the Clinical Genome Resource program, or ClinGen. We collaborated with the NCBI that began building the ClinVar database and supported many labs to submit to ClinVar. This platform allows for sharing and standardization of variant classification knowledge, significantly improving the accuracy of interpretation. Additionally, resources like the Genome Aggregation Database (gnomAD) database and the Matchmaker Exchange (MME) have played crucial roles. The former helps in identifying common variants too frequent to cause disease, while the latter facilitates the discovery of novel disease-causing genes by globally connecting families with variants in the same genes. These efforts have been pivotal in advancing rare disease discovery and diagnostic testing, which has been acknowledged through the Luminary Award.
---
Question 2: Application of genomics in clinical care at MGH.
At MGH, we established the Genomic Medicine Implementation Team, a collaborative effort involving core members of my genomic medicine unit and leads from various clinics across the hospital. Our goal is to address and overcome the challenges in offering genomic medicine. We've launched initiatives like the standardization of preferred laboratories for genetic testing and the integration of genetic test ordering within the electronic health record system to streamline the process. Moreover, we created a Genetic Counseling Network led by Kristen Shannon to support low volume clinics with shared resources, ensuring equitable access to genetic counseling services across the system. Our Preventive Genomics Clinic and Fast Track Genetic Counseling service led by Leland Hull are tailored to assist primary care physicians and ensure a broader and more equitable offering of genetic services, facilitating pre-test counseling, test ordering, and result interpretation in a coordinated manner.
---
Question 3: Challenges and future of genomic data sharing.
The primary challenge in genomic data sharing is the effective sharing of individual-level data, both genotypic and phenotypic. This is due to consent requirements and the lack of harmonization in data processing across different sites. For instance, the cost of reprocessing genomic data from external sites to include in our gnomAD database is cost prohibitive except for a small amount of data. Standardizing data generation, storage, and structuring is essential to overcome these hurdles. In the future, the creation of large cohorts through programs like the 'All of Us' research program and the aggregation of harmonized global datasets will be crucial. Federated analysis, which allows for remote analysis without the need for data movement, represents a significant opportunity. This approach will enable the global scientific community to analyze and learn from a vast pool of genomic data while ensuring data integrity and accessibility.
---
Question 4: Ensuring data integrity and accessibility in remote data harmonization.
The balance between data integrity and accessibility is a critical aspect of remote data harmonization. One exciting development is the emergence of federated analysis, which allows for the analysis of data across large cohorts without the necessity of moving or downloading data. Recent collaborations, like the one between the UK Biobank and the 'All of Us' research program, have shown the potential of federated learning in making discoveries from datasets sitting in separate locations. This approach is poised to play a key role in advancing genomic science and medicine by enabling remote, yet secure, analysis of data across global cohorts. Standardization in data processing and structure, along with advancements in federated analysis, are the innovations I am most excited about as they address the current challenges and pave the way for a more collaborative and insightful genomic research landscape.
Follow PMWC on these social networks
#PMWC24 Follow PMWC on these social networks
Overview
PMWC, the "Precision Medicine World Conference" is the largest & original annual conference dedicated to precision medicine. PMWC's mission is to bring together recognized leaders, top global researchers and medical professionals, and innovators across healthcare and biotechnology sectors to showcase practical content that helps close the knowledge gap between different sectors, thereby catalyzing cross-functional fertilization & collaboration in an effort to accelerate the development and spread of precision medicine.

Since 2009, recognized as a vital cornerstone for all constituents of the health care and biotechnology community, PMWC provides an exceptional forum for the exchange of information about the latest advances in technology (e.g. DNA sequencing technology), in clinical implementation (e.g. cancer and beyond), research, and in all aspects related to the regulatory and reimbursement sectors.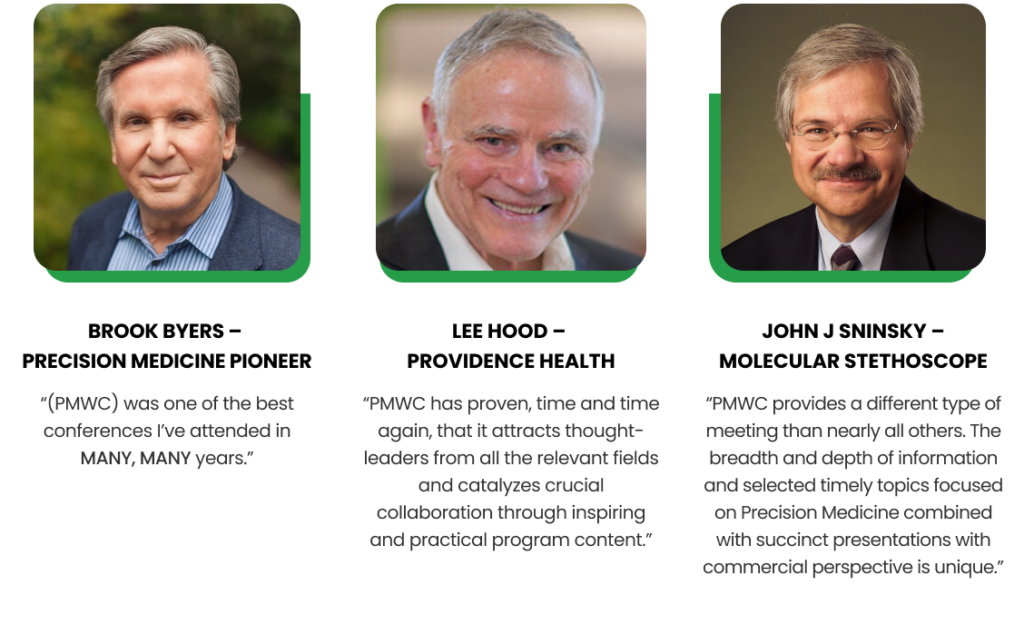 Format
The conference format consists of five parallel talks spanning 3 full days. Main Tracks 1-4 include sessions by leaders in the commercial, pharmaceutical, academic, government, regulatory, venture capital, and non-profit arenas that deliver a broad and up-to-date array of content across the various facets of precision medicine. Session discussions focus on time-relevant aspects with a selected set of key stakeholders, while commercial sessions cover the latest developments in technologies that are instrumental for the success of further adoption of precision medicine.
Additional 2 Tracks, feature Showcases: companies and research institutions can promote their platforms, launch products, and share research developments to a targeted audience(Apply) & the Most Promising Company Competition: identifies "rising stars" startup companies in the area of diagnostics, therapeutics, and health tech via a platform that includes leading investors.
For over a decade, PMWC has recognized individuals who have played a significant role in transforming health care by advancing precision medicine in the clinic with the Luminary and Pioneer Awards. The honorees' numerous technological and scientific contributions have expedited this transformation as demonstrated by the clinical adoption of precision medicine, and the ongoing introductions of novel clinical applications. For a deeper look into the fascinating achievements of our past awardees see the awards page.