Exhibition Guidelines January 24-26, 2024
Please register/complete your complimentary passes by December 1st. 

If you have not received them, please email to

[email protected]

.
If you need additional tickets you can add them here by DEC. 7

Bring your PMWC e-ticket for faster registration when picking up your nametag. E-tickets will be resent to all registered attendees a week prior to the conference.
Notify us at

[email protected]

 ASAP but no later than Dec. 1 with the exhibition point-person's cell phone and email.
RECOMMENDED GIVEAWAYS at Exhibit to attract attendees in order of popularity:

Speciality Coffee(Very Popular), – Especially on the same day or hour after your presentation

Speciality Coffee Station (Constant Line),
Water Station,

Hot Tea/Coffee,

Food items(Warm Cookies, Cinnamon Buns, etc), – Especially on the same day or hour after your presentation
Free Health Test / Genetic Learning,

Charging station,

Lounge Area,

'Free Headshots' photo area for attendees to use on Linkedin,

Meta Water Bottles

Wifi Hotspots

Tote Bags,

Branded Clothing (shirt, hat)
TEST THE APP & THAT FIELDS ARE MAPPED CORRECTLY USING this Sample QR code to scan: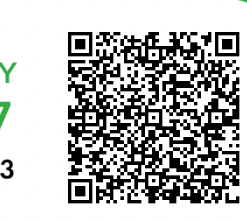 –TriCord is the Official Service Contractor and will address all exhibition needs, you must coordinate with TriCord for any exhibit set up.  You can contact [email protected]
Below are Some highlights from the Venue Guidelines – see full rules here: SCCC Rules (Facilities Guide) – PMWC
Included in exhibit space.
Only the drape and name tag will be provided. For any additional items you need, please order through Tricord (emails will be sent from tricord.net, so check your spam folder if you haven't received them). If you haven't received any emails from Tricord, please contact [email protected]. These costs are not included in the PMWC exhibition/sponsorship packages. 
Note: Carpet/vinyl flooring is required by all exhibitors.
General Terms
INSURANCE
Because the Convention Center is owned by a public agency, all users must provide Broad Form General Liability Insurance with minimum limits of $1,000,000 ($2,000,000, if exhibits) written through an insurance company licensed to do business in California. The coverage must be on an OCCURRENCE basis (rather than aggregate).
This insurance must insure against any claim arising out of or in connection with your use of the Center, your contractors, subcontractors, employees, exhibitors and/or agents including all costs of defending such claim or claims.
If your organization already has business insurance, it is usually possible to obtain the appropriate coverage under the existing policy. Your agent or broker can provide an Endorsement/Certificate of Insurance to the Center to meet the requirements.  To be complete, however, it must show as named insured's, in addition to yourself, your contractors, subcontractors, employees, exhibitors and/or agents:
"The Center, the city of Santa Clara, the Redevelopment Agency of the City of Santa Clara, the Santa Clara Chamber of Commerce, and their respective officers, directors, employees and/or agents."
If you do not have business insurance, we may be able to help you obtain the insurance through a Special Event Safety Group Insurance Program. The program is written through an insurance broker and its cost is, usually, very competitive. We are not the insurance broker or agent. We charge a nominal "processing fee" in addition to the premium quoted by the broker. Please consult your Event Manager for details.
You must also provide evidence of Worker's Compensation coverage for California employees.
Many governmental units and some large companies are self-insured. A self-insurance program may be acceptable but is subject to review and approval by our Risk Management advisors.
It is not necessary for Event Insurance to include liquor liability coverage.  The Center's caterer, Levy Food Service, provides this.
CONTRACTORS
The Center requires that all major contractors and subcontractors be properly qualified and licensed. In addition, we require that they present evidence of insurance in the same minimum amounts and in the same form, as you, the Licensee, must provide.
FIRE AND LIFE SAFETY
All exits (except rollup doors) are considered fire exits and cannot be blocked or obstructed. Aisle ways must be kept clear and may not be occupied by any person for whom seating is not available.
The doors leading into all meeting rooms, ballrooms, exhibit halls and the theater are fire doors. Propping those doors open violates the fire code unless they are equipped with automatic closers.
Candles with open flames are not permitted on banquet tables unless contained within a glass chimney and firmly secured to prevent tipping over. All plans for candles must be reviewed with the Event Manager and Levy Food Service.